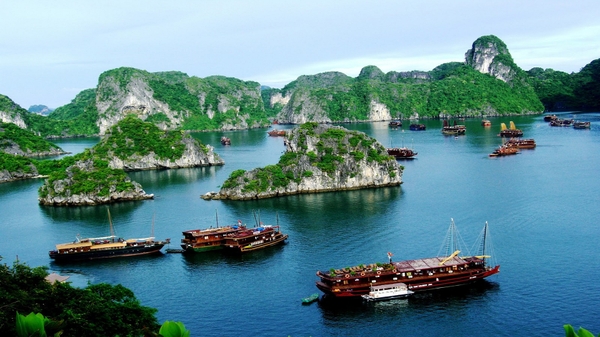 Ha Long Bay's water treatment technology will be upgraded basing on Japanese technology
On 16/11/2015, Japanese International Cooperation Agency (JICA) and Quang Ninh province have officially launched the project of transferring technology from Japanese companies in environmental improvement matter using Bio-toilet and New Johka.

The project aims to improve the environment through the application of independent wastewater treatment system, no collection, no agitation supported by Japanese companies.

Due to the nature of terrain, there are many places in Quang Ninh province where construction cannot be conducted and connected to general wastewater treatment system. Therefore, the installation and use of Bio-toilet and water filtration system on tourist boats in Ha Long Bay, wharf areas and some areas that are not connected with the general treatment system will contribute to better environmental protection of the bay.

Earlier, in the test program from 10/2013 to 2/2014, Department of Natural Resources and Environment of Quang Ninh has collaborated with Chodai Seiwa Denko and Chodai Co Ltd (Japan) to install seven bio-toilets and seven new wastewater treatment systems New Johka for households and public places in Van Don District, Ha Long. Process of the test operation of the system provides a positive contribution to improve water environment in Ha Long Bay and change perception of people about environmental protection.

Following the success on 16/11, representatives of JICA and Quang Ninh province have signed a memorandum project "Surveys confirming technological transferal capabilities of Japanese companies in environmental improvement matter using Bio-toilet and New-Johka". Accordingly, from now until 4/2018, Quang Ninh province will cooperate with Japanese companies to install 20 Bio-toilets on tourist boats and some public places in Ha Long City; install 11 new wastewater treatment equipments New Johka in communities of Van Don District.

Bio-toilet and New Johka equipments will be monitored over a period of 14 months in order to adjust technical standards of the equipment in line with local needs.

Successful project implementation will reduce 50% of pollutants from wastewater; reduce dependency on chemical fertilizers; strengthen the sense of protection and conservation of water environment through environmental education activities for people of Quang Ninh province and improve the water environment by using a sustainable system in Ha Long Bay.

Vice Chairman of People's Committee of Quang Ninh, Mr. Dang Huy Hau has confirmed Quang Ninh province will effectively direct all levels, sectors and communities to complete programs of the project, contribute positively in protecting the world natural heritage Ha Long Bay.
Source: vietnamplus.vn